Auto Body Repair Near Sandusky, Bad Axe, Brown City & Port Huron at the Tubbs Brothers Collision Center

When your car is in need of a critical fix, take it into the Tubbs Brothers body shop. Just a short drive from Bad Axe, Brown City and Port Huron, our collision center isn't just a convenient choice. It's a smart one.
Here, we staff only perfectionists who simply don't have it in them to do a half-hearted job. This means that whatever you're in for - a paint job, wheel repair, dented fender - you're sure to be impressed by the results.
Curious about what it will cost to have your car fixed at our Sandusky body shop?
Contact us online or by phone today. We can give you a rough estimate based on available details and will be happy to schedule a time to examine your vehicle and give you a more concrete figure.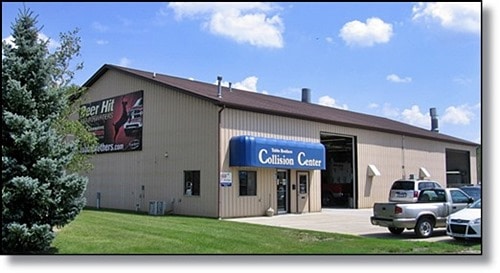 Our Body Shop is staffed with the most qualified technicians ready to answer your questions and address your body shop needs. Use our online form to schedule an appointment or contact our body shop if you have any additional questions.